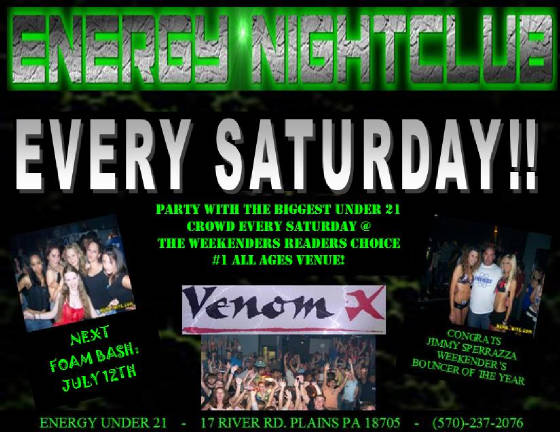 ENERGY NIGHTCLUB IS NEPA'S PREMIER UNDER 21 NIGHTCLUB OPEN EVERY SATURDAY
GRAND RE-OPENING - SATURDAY FEBRUARY 14TH
HEAVEN OR HELL PARTY!!!
DRESS AS AN ANGEL OR THE DEVIL FOR A DISCOUNT.....
What's New?
MORE ROOM , NO PROBLEM, SECOND DANCE FLOOR NOW OPEN!!!! WITH THE VENOM X VIDEO WALL & POLES/STAGES FOR THE LADIES!!!
NEW CONCERT HALL/SCHEDULE
NOW HERE!!! VIDEO WALL, SIHLOETTE WALL, EXOTIC POLES, GLOW STICKS, VIDEO GAMING ROOM, AND MORE!!!